Regular trips to the dentist are necessary to maintain your oral health throughout your lifetime. Oral health has far-reaching impacts on overall health in everyone from young children to the elderly. Canada is a leader in oral health, with
80% of Canadians
reporting that they have a dentist, and more than 85% visiting a dentist within two years. However, choosing a dentist can be complicated, and many people don't know what to look for. Going to the dentist isn't just about keeping your teeth clean. When dental issues arise, you may not even realize it until they start causing you pain months later. A dentist familiar with your history can often spot problems at regular checkups and suggest a course of action to prevent issues like cavities. You need to feel comfortable with your dentist and feel confident in their competence. If you're wondering how to find a new dentist, these tips will help make the process go as smoothly as possible.
Where to Find a New Dentist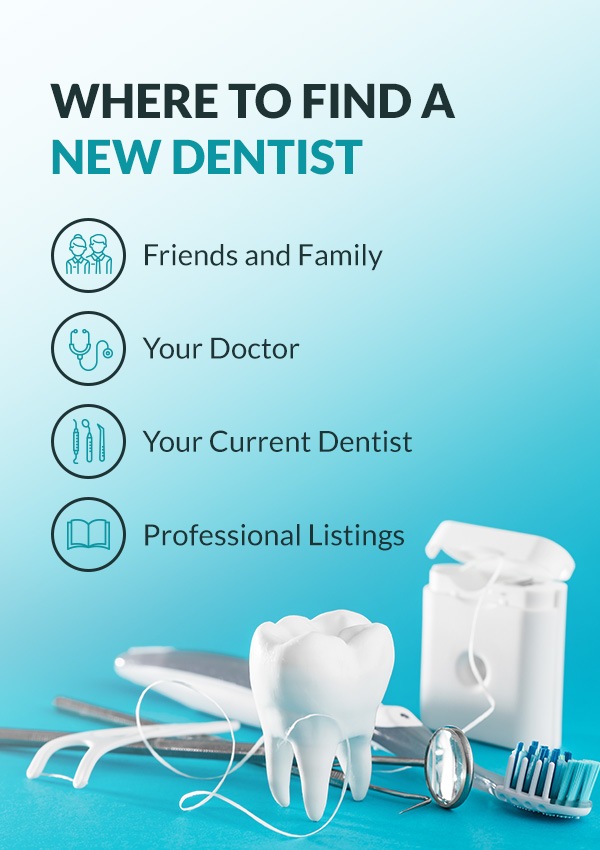 Selecting the right dentist means having a list to start with. Try these sources to build out your list of options.
Friends and family: While dentistry may not be a frequent topic of conversation in your family and social circles, it's quite likely someone you know has a dentist they trust. They can also tell you about their experience, helping you to make a more informed decision.
Your doctor: Medical professionals often move in the same circles, and your physician might be able to provide you with dentist referrals.
Your current dentist: If you're moving to a new area, you may have luck asking your current dentist if they know of any practices in your new location that are currently accepting new patients.
Professional listings: The Canadian Dental Association provides a directory of dental regulatory authorities and provincial/territorial associations that can point you toward professionals in your area.
It's essential to narrow down potential dentists by location. How far are you willing to drive to your appointments? If you only go to the dentist every six months, you may think it doesn't matter too much. However, if the dentist is an hour away, you'll quickly start associating dentist visits with the hassle of travel. Choosing from a pool of dentists within a certain radius of your location is a good idea.
Tips to Choose the Right Dentist
Once you've found a few dentists near you, you'll need to do some sleuthing to find out which one is most suitable for you. This person will play a significant role in your health care for the foreseeable future, so be sure to thoroughly explore your options before settling on a new provider. Here are five things to consider when looking for a new dental practice.
1. Office Hours
Your life is busy. Between work, school, kids and other responsibilities, most people don't want to spend time worrying about scheduling trips to the dentist. If your working hours match up exactly with your dentist's office hours, you're going to find yourself struggling to choose a convenient time to come in. Depending on the amount of work you need, this may not be a deciding factor in your search for a new dentist. If you are only looking for preventive care, it probably won't be a big deal to take a couple of hours off to visit the dentist. But if you have extensive dental care needs or plan on
taking the whole family
to one dentist, it's important to know their hours mesh with your schedule.
2. Appointment Wait Time
How long does it usually take to get an appointment with the dentist? If you're concerned about a particular issue that's causing you pain, but doesn't reach emergency status, you don't want to have to wait a month for an appointment. Problems with
oral health
can escalate quickly, so it's important to know you can get in relatively quickly when you need to. Call up your dental practice prospects and ask when their next available appointment is. You can also ask about their average wait time to give you a clearer picture of how long you can expect to wait.
3. Emergency Services

Few things can be as frightening as having a dental emergency and not knowing where to turn for immediate attention. The right dentist will have
emergency dental services
you can use. Getting a tooth broken or severely biting your lip or tongue can be extremely traumatic, and you need to receive care as soon as possible. If your dentist doesn't have a process for emergency services, there likely won't be any room in the schedule even for emergencies, and you may end up having to turn elsewhere to get the time-sensitive care you need. The right practice will take you as a walk-in if you are in pain and require immediate treatment.
4. Insurance Coverage
Dental work can have a significant impact on your budget if you pay for it out of pocket. Make sure the dentist you choose accepts your insurance, or you may be in for a surprise on the bill. If you don't have dental insurance, check to see if the practice has any payment plan options you can take advantage of. Many dentists will allow you to break up costs of a procedure and pay it over time. Having the flexibility to make multiple payments is always a good idea, even if you don't need to use it every time.
5. Specialties
Most people only need a general dentist to cover their oral health needs. If you have periodontal disease, for example, it's a good idea to choose a dental practice with a periodontist on staff. In addition to
periodontal maintenance
you do on your own and the care you receive from your general dentist and dental hygienists, a periodontist can complete your treatment by placing dental implants. Even if you don't have any conditions that require a specialist, it's good to know if a practice has any in case your needs may change in the future.
10 Questions to Ask Your Dentist
Once you've narrowed down your options to three or four practices, it's time to get an impression of them face-to-face. An initial consultation is the perfect time to get all your questions answered. If you're not quite sure what to ask or how to compare dentists, these 10 questions will reveal a great deal about your candidates for a new dentist.
1. Can You Talk to the Dentist Directly?
Many dentists prefer to route patient questions through someone at the reception desk or another staff member. Ask the dentist if they accept correspondence by phone or email. If they seem hesitant to speak to you directly, you might want to reconsider. That isn't to say you should be able to reach a dentist day and night with any questions you may have, but you should know you can reach them if you have a pressing question about your treatment.
2. Do They Have References?

A competent dentist will have many satisfied patients, and many of them are likely willing to share the experience they've had with a dentist. See if the dentist can direct you to one of their satisfied patients, so you can learn more about them from a different perspective. A dentist may also have references from others in the medical or dental field, which can help instill confidence in their practical skill. If they don't have any references available, online reviews can be an excellent source of information. They'll help you find out what the dentist does well, and reveal any consistent issues with their treatment or approach.
3. What Do They Do for Continuing Education?
Dentists must put a certain amount of hours toward continuing education, which helps ensure their competency and knowledge of current best practices in the field. When you ask the dentist what their approach is to continuing education and what steps they've taken to do so, they should answer with confidence. The right dentist will be enthusiastic about learning and be willing to share a little bit of what they've done to promote it.
4. What Services Do They Provide?
Every general dentist will be able to perform routine maintenance like dental cleanings,
teeth whitening
and fillings. Some practices, however, offer services you might not expect from a dentist's office. For example, some dentists can help alleviate the dangerous and unpleasant condition of
sleep apnea
by creating a custom fit mandibular advancement device that keeps airways open. You may be surprised to know you might even be able to get
Dysport® or Botox®
from your dentist, if that's something you're interested in. In many cases, the range of services offered by a dentist's office can make or break your decision.
5. Do They Teach Prevention?
Prevention is the best medicine, and that's certainly true of oral health. The average patient sees the dentist only once or twice a year, and the rest of the time, it's up to you to take care of your mouth. Any dentist can remind you to brush and floss for optimal maintenance, but the right dentist will go a step further and recommend brush types and techniques to maximize your mouth's cleanliness. Dentists should have a substantial collection of educational materials for you to learn from. Whether it's pamphlets in the lobby or a robust website with explanations of procedures and preventive measures, you should feel confident going to your chosen dental practice as a source for critical information.
6. Do They Do Anything to Accommodate Children?

If you're planning to take your whole family to a new dentist, you have to know what their services for children are.
Pediatric dental treatment
comes with challenges not every dentist is prepared to handle gracefully. It takes skill and professionalism to treat young children, who may be unable to sit still or are frightened of the whole process. When a
child has cavities
or needs a
tooth extraction
, what does the dentist do to make the process more comfortable? Sometimes, when kids are very young, unable to cooperate or have special needs, dental treatment might take place under general anesthesia. When this is the case, ask what the dental team does to create a plan customized to your child.
7. How Do They Handle Patient Anxiety?
It's no secret that many people hate going to the dentist. Whether they've had a bad experience in the past or don't feel comfortable with pieces of metal prodding around their mouths, a good deal of patients experience some amount of apprehension or anxiety when going to the dentist. Ask the dentist what they do to help patients feel more comfortable in the dental chair. The right dentist will be happy to walk you through whatever procedure you are undergoing so you feel more in control of the situation. Anything your dentist can do to reduce your anxiety will improve your experience as well as your outcomes. If you are anxious enough, you may want to inquire about IV sedation for your procedure.
Bedside Manner Matters
One of the most critical factors in choosing a dentist is how you feel around them. Does she have a cold stare that makes you uncomfortable? Does he seem like he's not paying attention to you when you're describing a potential problem? If a dentist makes you feel judged or like you're a burden or annoyance, cross them off your list immediately. The most common result of choosing a dentist you don't like is that you end up
lying to them
about things like flossing and consuming too many sugary beverages. Your dentist is a critical part of your health care team. It's their job to care about your oral health. If a candidate doesn't seem to display genuine interest in your overall well-being, you would probably be better off at another practice where you feel valued as a patient.
Great Care at Gateway Dentistry Group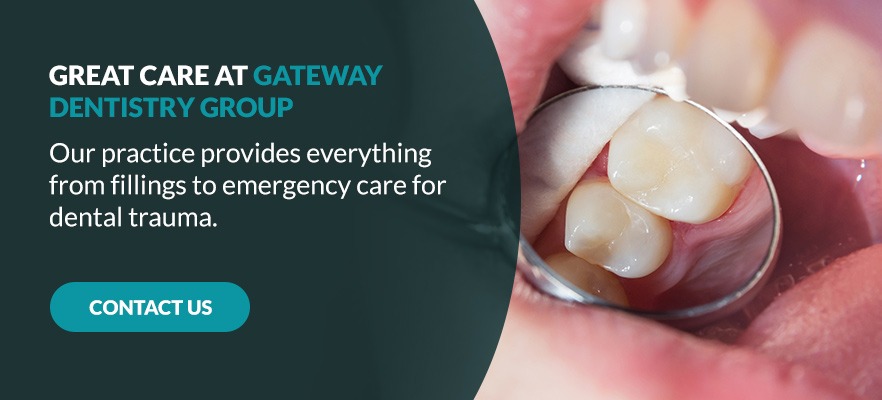 Are you having trouble choosing the right dentist? Gateway Dentistry Group offers a wide range of dental services in Grande Prairie. Our practice provides everything from fillings to emergency care for dental trauma. If you require surgery, you can feel confident getting it at our non-hospital surgical facility, which has received accreditation from the College of Physicians and Surgeons of Alberta as well as the Alberta Dental Association and College. The right dental practice will be an integral part of your health, and can help lower your risk of problems like
heart disease and diabetes
. If your concerns are mostly aesthetic, Gateway Dentistry Group can provide treatments that bring you closer to the bright white smile you're looking for. If you're ready to learn more about Gateway Dentistry or set up an appointment, give us a call at 1-780-539-3555. You can also send us your questions or request an appointment time by
contacting us online
. Our Alberta dental clinic is always accepting new patients, so don't hesitate to contact us today for the dental care you deserve.