If you have one or more missing teeth, you are likely familiar with the difficulties that having gaps in your smile can cause. Having missing teeth can lower your self-esteem and contribute to a decline in your overall oral health and wellbeing. The gaps created by missing teeth offer an ideal spot for harmful bacteria to accumulate, leading to gum disease, decay, and bone deterioration. One way to restore your smile and prevent these problems is through dental bridges in Grande Prairie, AB.
Dental bridges are composed of several dental crowns that are stuck to one another to replace your missing tooth or teeth. Most dental bridges use your surrounding natural teeth as anchors in your mouth.
There are many available dental bridges near you, and each kind of bridge utilizes different techniques and materials. Depending on your desires, cost concerns, and the location of your missing teeth, our dentist at Gateway Dentistry Group will determine the type of dental bridge that is best suited to your needs.
What Are the Benefits of Dental Bridges?
Dental bridges in Grande Prairie, AB, come with many benefits, including:
Readjusting your bite
Preventing misalignment
Preventing gum disease and tooth decay
Boosting your self-esteem
Restoring your speaking and chewing abilities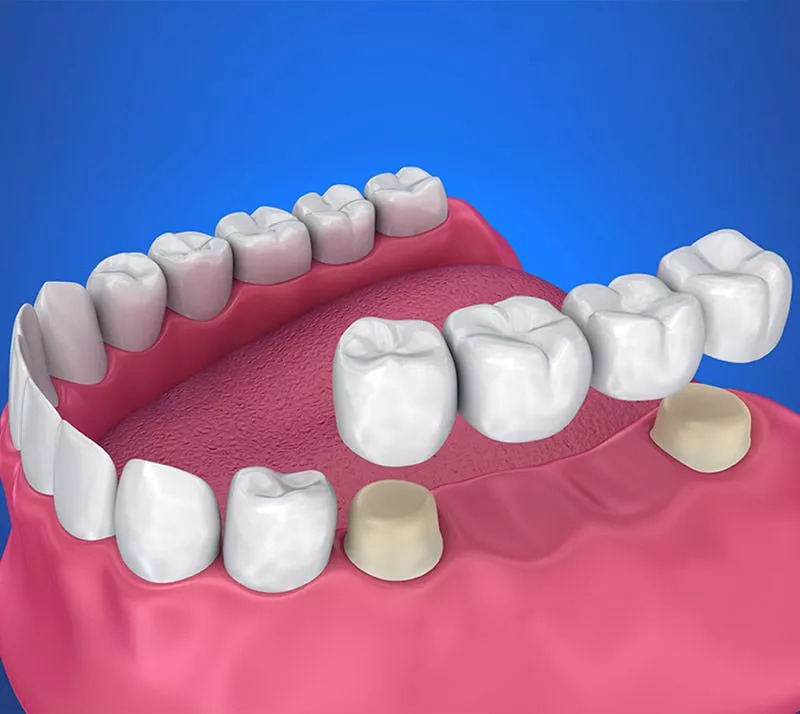 Looking After Your Dental Bridges
Depending on the kind of dental bridge you end up getting, the recovery process can take anywhere from one to several weeks. In most cases, dental bridges come with a short and simple recovery. The majority of patients can return to their daily activities without any trouble within a couple of days of getting their dental bridge. It is normal to experience a small amount of soreness or sensitivity, which should subside within a few days.
If you properly care for your dental bridge, it can last you for several years. To get the most out of your dental restoration, be sure to:
Rinse your mouth daily with an antiseptic mouthwash
Maintain an excellent oral hygiene routine
Avoid hard and chewy foods
Visit Gateway Dentistry Group at least once every six months for a professional dental cleaning and checkup
Thinking About Getting Dental Bridges Near You?
If you are missing teeth and would like to restore your smile, please contact our team at Gateway Dentistry Group. We are happy to provide our patients with dental bridges in Grande Prairie to restore their smiles and enhance their confidence. Don't hesitate to contact us and book a consultation today!