Dental Cleanings & Checkups Near You
When it comes to maintaining oral health, attending regular professional dental cleanings and checkups is essential. At professional dental cleanings and checkups, our dentist near you works to eliminate harmful bacteria, plaque, and tartar from your teeth and along your gum line. At Gateway Dentistry Group, we are proud to provide our patients with in-depth, high-quality dental cleanings and checkups in Grande Prairie, AB.
What is the Significance of Dental Cleanings and Checkups?
When you drink and eat, an invisible layer of plaque forms on your teeth. This plaque will harden into tartar when left untreated, which is nearly impossible to remove with a toothbrush and toothpaste at home. The longer the tartar can remain in the mouth, the more likely it is to cause various oral health problems such as gum disease and tooth decay. In its early stages, gum disease does not show many signs and is relatively painless. Due to this, many patients leave it untreated until it progresses. When detected in its early stages, gum disease can be reversed; however, it can no longer be completely reversed when it progresses and can lead to long-term oral health issues. When you regularly visit Gateway Dentistry Group for professional dental cleanings and checkups in Grande Prairie, AB, our dentist can detect and treat gum disease while it is still in its early stages.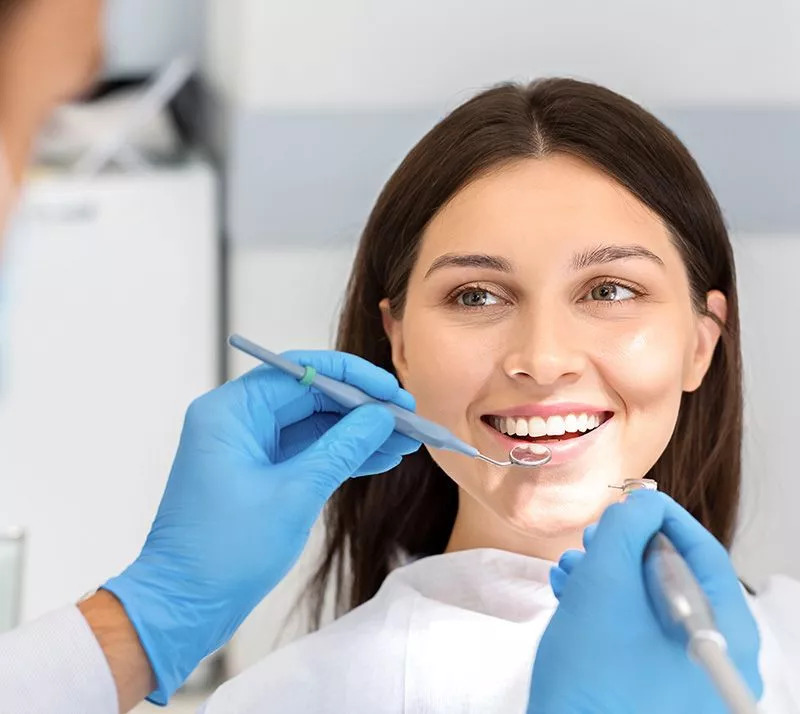 What To Expect at a Dental Cleaning and Checkup
When you receive professional dental cleanings near you, the procedure involves our hygienist:
Scaling your teeth to eliminate tartar and plaque
Flossing and polishing your teeth
Providing a fluoride treatment to strengthen your teeth and protect against future tooth decay and cavities
Once your dental cleaning is complete, our dentist will perform a comprehensive checkup. During the checkup, the dentist will:
Evaluate your mouth for any signs of gum disease
Perform an oral cancer screening
Discuss your oral and overall health and ask about any changes to your medical history
Take radiographs of your mouth to check for underlying health problems
Create a personalized treatment plan
How to Take Care of Your Oral Health at Home
Having a healthy smile is vital for your overall quality of life. On top of maintaining a healthy diet rich in fruits and vegetables, our dentist recommends that you do the following maintain optimal oral health:
Floss once per day
Brush your teeth at least twice a day for at least two minutes
Rinse your mouth after ingesting surgery snacks or meals
Visit our team at Gateway Dentistry Group at least once every six months for a professional dental cleaning and checkup
If it has been a while since you have had a professional dental cleaning and checkup near you, please visit Gateway Dentistry Group. We are happy to provide you with top-quality dental care for all of our patients. Don't hesitate to get in touch with us to book an appointment today!