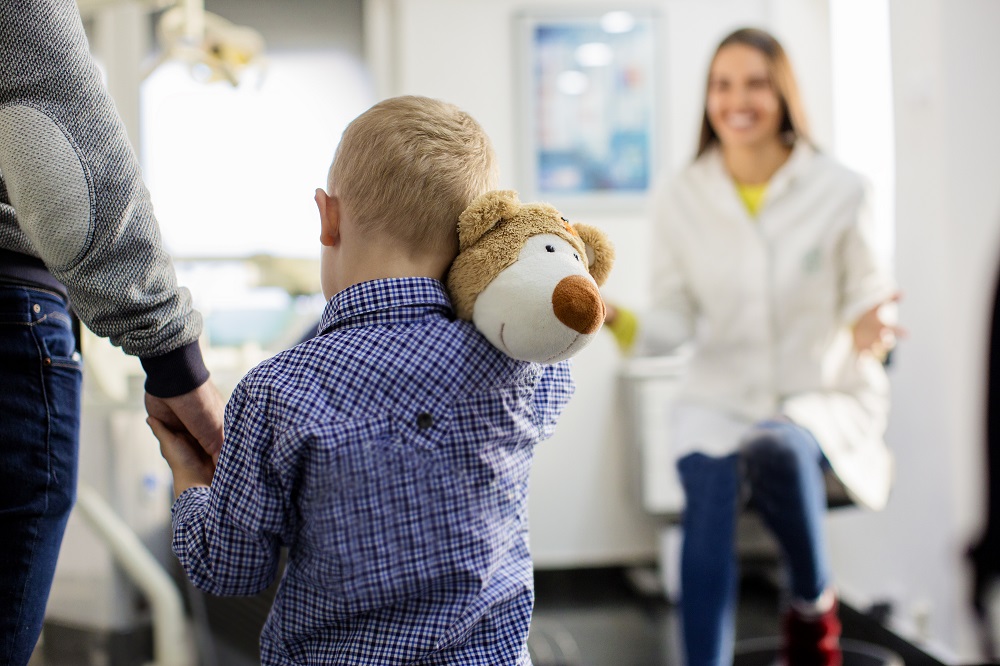 Did you know that over 20% of school-aged youngsters fear the dentist? That indicates that one in every five children has a genuine and terrified reaction to the prospect of sitting in the dentist's chair. Anxiety is the physical and emotional response of the human body to a situation that the brain sees as harmful, even if it is not. 
It's normal for a youngster to be scared while visiting the dentist for their initial visit, or even several times if there are lengthy gaps between early visits. It's a strange setting; devices are around, and strangers are eager to peer inside their mouths. 
Even adults can be concerned about it! We're a pediatric dentistry in Grande Prairie, and we've learned a few things along the way about things you can do within your home if your child is afraid of the dentist. Here are hacks for reducing children's fear of dentists and making visits more straightforward for both of you. But before we understand,
What Causes Dental Anxiety in Children?
The first step in treating children's dental anxiety is determining why they fear the dentist. There are times when a child's worries are unfounded. However, the majority of youngsters suffer from dental anxiety because they might be fearful of: 
Patients must expand their mouths during a dental visit for an examination and cleaning. This position can make traditional breathing difficult, especially if the infant is likely to inhale through their mouth. Assume a youngster has had a dental operation with gauze or instruments in the mouth at any time. In that situation, the experience of feeling as if breathing was challenging—even if it wasn't—may trigger anxiety before they visit the dentist.
A child may feel helpless while lying in a dental chair with another person's hands in their mouth. If their mouth gets blocked, they may be unable to speak correctly if anything hurts or feels uncomfortable. This state might be frightening for a child since they cannot use their instincts to remove themselves from a challenging or painful circumstance. 
A good, family-friendly dentist will provide youngsters with ways to preserve some control throughout their appointments. During tooth cleaning, the dentist may give children a hand signal to indicate when anything hurts or give them control of a television remote.
A dentist strives to be compassionate with all patients, regardless of age. However, anything might sometimes hurt or feel terrible, particularly during a dental operation. Perhaps your child had dental treatment done by a dental professional who was not compassionate or did not adequately medicate them before a procedure. 
Even when children visit the dentist in Grande Prairie for a checkup, that encounter may cause dental anxiety. Sedation procedures can minimize a child's awareness of what's happening or the pain and suffering they feel if they need dental care.
Defining what makes a child anxious about going to the dentist might take years. Perhaps they overheard another kid or grownup describe a grueling dental procedure. They might have a sensory impairment that makes dealing with the sounds and odors of a dental clinic difficult. 
Perhaps they are afraid since they have no idea what to expect. The fear of the unknown is a valid source of dental anxiety. If a youngster has not had regular dental checks or has been waiting too long between appointments, they may need to learn what to expect. Or they might need to recall what happened during their previous visit.
How to Support Kids Overcome Fear of The Dentist
Parents must be very intentional and focused on their approach to assist the kids in working through and conquering their fears. The following strategies might prove fruitful:
Tip 1) Prepare Your Child For The Dental Visit
Many parents keep a child's planned dentist appointment a secret until the last minute when they become worried. There are, however, better ways to alleviate your child's dental anxiety. 
Giving a youngster advance notice of a scheduled appointment at a pediatric dentistry near you assists them in processing their worry. Encourage children to ask questions and discuss what they can expect at the session. 
Tip 2) Choose a Pediatric Dentist
Selecting the best dentist near you for your child is also critical. Parents should look for a dentist who works well with children by understanding child psychology, particularly those with dental phobia. But it's only sometimes about the dentist.
Tip 3) Creating a Positive Dental Environment
The surroundings can also influence your kiddo's ability to take it easy during dental visits. Could you take a look around their office? Is the workplace noisy? During their appointments, can youngsters hear or see other patients? 
Is the office decorated in brilliant colors or soft, soothing colors? Hearing the clanking of dental instruments could cause anxiety in many youngsters, especially those prone to sensory difficulties.
Tip 4) Distraction and Relaxation Techniques
Telling kids exactly what's going to happen and then demonstrating it before actually doing it. Distraction and positive reinforcement with encouragement, compliments, balloons, and excellent toothbrushes at the end of visits are great methods used by dentists.  
We also communicate with children on their level, using terminology they understand. All of this calms nerves and makes the encounter enjoyable.
Tip 5) Positive Reinforcement and Rewards
We don't encourage bribing children or giving them candy if they go through a dentist visit without crying or wriggling. If your child is afraid of the dentist, congratulate them after their session for being brave and taking the first step toward having a healthy smile.
Ready to Set Up an Appointment? 
At Gateway Dentistry Group, we treat your kids like our own. Our professional dentists take care of children with soft hearts and happy smiles to make sure they understand the value of oral hygiene from their earliest days. If you are looking for a pediatric dentist for your child, visit us today!